Hexarafi/2018 FIFA World Cup: PREDICTION is under construction. Therefore, please excuse its informal appearance while it is being worked on. We hope to have it completed as soon as possible. Thank you.

Note: Please do not edit or alter this page unless you have permission from the pages' author(s).

Some minor grammar and spelling fixes are allowed if you find any errors of the type.
Yeah, yeah, I know most of users here are Americans and won't give a damn about football. I also know that blogs are no more used by people here. I just want to give you my thoughts about football by posting this blog.
FIFA World Cup is the most popular sporting events in the world, it is even more popular than the Summer Olympics. Millions of people are going to watch it live from the venue, through television, radio, or internet streaming. There are 32 teams that will compete in the tournament, and they will be struggling to reach the victory. But, who's gonna win the World Cup? Let's check 'em out.
What is FIFA World Cup and how it exactly works?
Okay, let me explain. So, what is World Cup? FIFA World Cup is international football/soccer tournament, which is held every 4 years. For 2018 edition, it will be held in Russia, from Kaliningrad to Yekaterinburg, there are 11 host cities and 12 venues. The final will be held in the largest stadium in Russia, Luzhniki Stadium in Moscow. *in Russian accent* Опа, this is going to be great, блин.
How it works? Firstly, all countries which are members of FIFA will participate in the qualification. The qualification is divided into 6 regions: North America, Central America, and the Carribbean; South America; Europe; Asia (incl. Australia); Africa; and Oceania. From those all countries, only 31 teams that will be qualified to the World Cup, meanwhile another one slot is given to the host, Russia. From those 31 slots, it contains: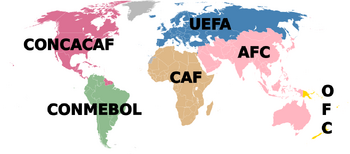 13 teams from Europe
4.5 teams from Asia
5 teams from Africa
3.5 teams from North America
4.5 teams from South America
0.5 teams from Oceania
One team each from Asia, North America, South America, and Oceania played in the inter-confederation play-offs.
After the qualification, here comes the main stages. All 32 teams will be divided again into 8 group, in which one group will contain 4 teams. In the group stage, teams will play against each other. The winner and runner-up will advance to the next round.
The group winners will play against the runners-up, which have been drawn. The winner of group A will play against runner-up of group B, C and D, E and F, G and H, and vice versa. The winners of the match will advance to the next round, and so on, until the final. The final match will decide the champion of tournament.
You also can see some explanations here: The WORLD CUP explained by American – Geography Now
Which teams are qualified to this edition's World Cup?
You can search it on Wikipedia or official FIFA site (fifa.com). But, if you don't want to check it out, here is this.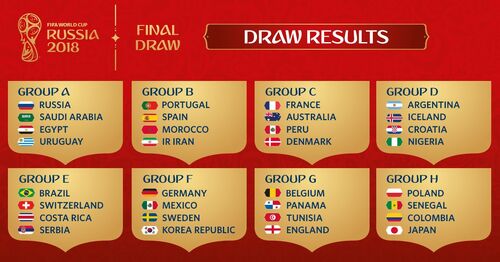 You may notice some big teams and big nations didn't qualify, such as Italy, Chile, the Netherlands, or United States. Keep in mind that nations that have large impact in international politics, such as India, People's Republic of China, and Canada are not always good in football (United States and Russia are quite good though).
Netherlands was struggling in the qualification, and finished at third, which means that they would not qualify. Italy, surprisingly, lose in the play-off. Fun fact: Sweden was responsible for the elimination of those two teams. Meanwhile, USMNT was losing to Trinidad and Tobago, thus making them eliminated.
NOT COMPLETED YET
How will it be going? What's your prediction?
Let's talk about future and prediction, shall we? This is Future Wiki, right? Let's take a look at these teams and how they will compete in this tournament.
Group A
This group consists of the host, Russia; team who is actually relevant in football, Uruguay; and two Arabic nations, Saudi Arabia and Egypt.
Uruguay is favourite to win the group and advance into the knockout stage, they have some great players, such as Luis Suarez and Edinson Cavani. I think they'll do great at this stage. But, there is an under-dog team, Egypt. Egypt will rely on their key player who has had impressive season with Liverpool, Mohamed Salah. Russia will have advantage as the hosts, and is also favorite to advance. Meanwhile, Saudi Arabia is largely predicted to be eliminated in the group stage, but who knows? Everything is possible, right?
My prediction: Uruguay (winner), Egypt (runner-up)
Group B
This group consists of two Iberian giants, Spain and Portugal; and two Islamic teams, Iran and Morocco.
This group is the most interesting one, because there are two favorite teams, Spain and Portugal. Despite not calling some of their best players, Spain will be surely advancing to the knock-out stage. They have great players, such as David de Gea, Sergio Ramos, David Silva, Andres Iniesta, and Diego Costa. Their rival will be Portugal. One of the most noticable player is, of course Cristiano Ronaldo, who have had success in his club career with Real Madrid. Portugal is also an European champions. Meanwhile, Iran and Morocco have only little chance to take the knock-out stage ticket, however they don't want let their supporters down, so, at least, they will battle for the third position.
My prediction: Spain (winner), Portugal (runer-up)
Group C
Group D
Group E
Group F
Group G
Group H
How about knock-out stage? What's your prediction?
See also:
My prediction (kind of) in wiki page

(Not completed yet)