The Sega Duo is the console in the 10th generation of video games developed by Sega as the successor to the Sega Dreamcast, which aims to bring Sega back into the console market/business with backwards compatibility. It marks the return of the company's 18 years of console market. The Sega Duo was released on August 5, 2026, it was the first Sega console since the Sega Dreamcast.
Summary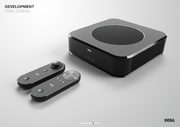 Sega showed no money in creating a video game console until 2001, when Microsoft released their Xbox console. In 2007, Sega reiterated that they're going to stay a software company and not re-enter the console business.
The purpose of which is returning Sega to the hardware market. Sega released their console early in the year, receiving massive acclaim and leaving Sony speechless. Sega grossed $9000 million for the Duo and the best received launch title came to be Shenmue IV and Seaman 3.
Now that Sega as a very successful game maker with the likes of Shenmue, Total War and Sonic the Hedgehog.
They can play games with photo-realistic graphics and highly-designed gameplay and also enter Sega Forever (SF), a service for re-releasing past games that allows to play video games from the following Sega consoles: Sega Master System, Sega Genesis, Sega Game Gear, Sega CD, Sega 32X, Sega Saturn and Sega Dreamcast. Downloaded games will be region-free; Japanese players can download North American games and North Americans can download Japanese games.
Gamers can also choose to omit the in-game music soundtrack in favor of Internet radio stations from around the world. More than 30 genres are used including news, weather and world beat music.
In 2027, Sega launches an accessory designed to play with the Virtual Reality (VR) feature, that directly connects the play to the world he is inserted in through special glasses and other body implements. The intended audience for Sega Duo advertisements will be divided into four different demographics: teenage males, males over 35, sports fanatics and "hardcore" Facebook gamers. By 2027, annual tournaments are set up in Los Angeles and New York where the winner goes to Sega headquarters to challenge Japan's greatest video gamer in a $10,000,000 grand finale match.
Announcement
On October 17, 2025. Sega officially announced that the Sega Duo would join the PlayStation 6, SmachFusion and the iPlay 2 in the next generation of gaming.
Games
2026
Sonic Adventure 4
Elder Scrolls VII
Doom: Death's Grip
Watch Dogs: Texas Chronicles
2027
Minecraft: Sega Duo Edition
2028
2029
2030