The author(s) of this article no longer wish to work on it, meaning that it's open for adoption
Feel free to make this article your own. Thank you.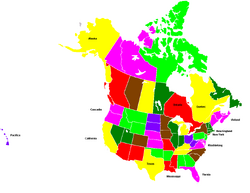 Canadamerican territories (as of January 1, 2035)
Mandato de México del Norte-The northern half of Mexico and a U.N. Trust Territory administered by Canadamerica, the southern half was awarded to the European Union. Later gained independence along with the former southwestern province of Canadamerica as the Republic of Aztlan.
Mandato de Gran Colombia-Another Trust Territory, included Colombia, Panama and Venzuela. It eventually gained independence as la Republica de Gran Colombia Nuevo.
Trust Territory of the West Indies -Included Anguilla, Antigua and Barbuda, Barbados, Cayman Islands, Dominica, Grenada, Jamaica, Montserrat, Saint Kitts and Nevis, Saint Lucia, Saint Vincent and the Grenadines, Trinidad and Tobago, Turks and Caicos Islands. It later became Canadamerican province.
As of 2040, Quebec, Florida, Texas, Cascadia and Vinland will be independent.