Jurassic World: Dominion Dominates Fandom Wikis - The Loop
Play Sound
Note
I will be reconstructing this page in the following weeks. A likely finish date for reconstruction is before or on January 1st, 2021.
President Joe Biden (2021 - 2025)
Joseph Robinette Biden Jr. is the 46th U.S. President in American History following Donald Trump. Joe Biden started off a Senator from Delaware first getting elected in the 1970s. He'd later be the Vice President for President, Barack Obama. And finally the 46th U.S. President in American History. Many Democrats consider Joe Biden a "Below Average" or "Average" president with the only accomplishment was handling the COVID-19 pandemic as President. Joe Biden would be the only President until Malia Ann Obama to live until 100 years old.
1972 U.S. Senate Campaign
Joe Biden who was a member of the New Castle County Council announced he'd run for the U.S. Senate against the Incumbent Republican Senator J. Caleb Boggs. Caleb wanted to retire but President, Nixon didn't so Caleb had decided to run with a lot of support. Joe Biden was the only Democrat who wanted to run against Caleb so he got the nomination. Many believed Biden had no chance of winning the Senate due to Caleb's popularity. Biden mainly focused on the Vietnam War, Civil Rights, Healthcare, etc. In the summer he trailed by almost 30 percentage points but his family caused voters to vote for him. On November 7th Biden won by a very narrow 3,162 votes becoming the next U.S. Senator.
Family Tragedy
Just a month after the Election, Biden's wife and 1 year old daughter, Naomi had died in a car accident while Christmas Shopping in Delaware. His wife's car was hit by a truck killing her and their daughter. Hunter and Beau had survived the accident with minor skull injuries. Biden wanted to resign to take care of them but the Senate Majority Leader didn't want him too so he stayed. In 1975 he met Jill Tracy Jacobs who they met on a blind date set up by Biden's brother. They would fall in love and just 2 years later got married making Jill Jacobs into Jill Biden. Beau would become Delaware's Attorney General and Hunter became a Washington attorney and lobbyist.
1988 Presidential Campaign
On June 9th, 1987 Joe Biden announced his Presidential Bid in Delaware running as a Democrat and trying to be the youngest President since JFK. He raised 1.7 Million dollars in the first quarter of 1987 which was more than any other candidate.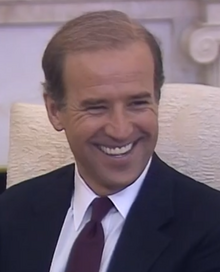 Joe Biden was a strong candidate until scandals starting going on around him for example him plagiarizing incident from Law School came up which also hurt his campaign. A lot of other scandals caused Biden to drop out on September 23rd, 1987.
2008 Presidential Campaign
Exactly 20 years after his unsuccessful 1988 Campaign he ran for President in 2008. He announced his bid on January 31st, 2007 after hinting at it for months before. He also claimed he wouldn't make the same mistakes he made in 1988 saying: "be the best Biden I can be".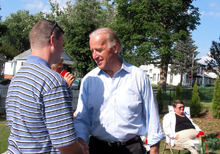 Biden would focus on the Iraq War in his campaign claiming he'd implementing the Biden-Gelb plan. Biden had many one-liners and many agreed he brought humor to the debates and sharp comments. Kind of like 1988 Biden had a lot of controversies such as this statement towards Barack Obama: "I mean, you got the first mainstream African-American who is articulate and bright and clean and a nice-looking guy—I mean, that's a storybook, man." which hurt how much money he got donated. Biden also had a lot of gaffes which many people said that was another reason why he shouldn't be President. Biden also had been exposed for his comments towards Indian Americans that he said in July 2006. He said: "I've had a great relationship. In Delaware, the largest growth in population is Indian-Americans moving from India. You cannot go to a 7-Eleven or a Dunkin' Donuts unless you have a slight Indian accent. I'm not joking.". Biden had a hard time funding and had finished 5th in the Iowa Caucus and due to that he dropped out the evening of the Caucus.
2008 Vice Presidential Campaign
Despite his comments Barack Obama privately told Biden he was interested in finding an important place for Biden in his administration after Biden dropped out. Biden originally declined but after noticing he'd lose his voice in the Senate he changed his mind. On an Interview he said he'd accept if Obama had asked him. On August 22nd, 2008, Joe Biden was picked as Barack Obama's vice president after Obama got the nomination. After Obama won Joe Biden became the 47th Vice President of the United States.
2020 Presidential Campaign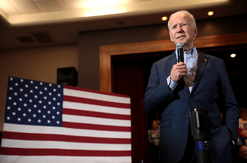 After Barack Obama's 2nd term ended many thought Joe Biden would run in 2016. After he didn't run many very heavily believed he'd run in 2020. On April 25th, 2019 after hinting about it for a long time Biden launched his campaign in Philadelphia, Pennsylvania. Shortly after he announced his run in 2020 many females claimed Biden had touched them. The biggest case of this was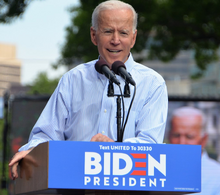 Tara Reade who claimed Biden sexually assaulted her. The Biden campaign denied these accusations. In September 2019 a phone call between President, Donald Trump and Ukrainian President, Volodymyr Zelensky was leaked. In the Phone call Donald Trump asked for dirt on Biden and his sons which resulted in a huge scandal. The House had impeached Trump over this becoming the 3rd sitting U.S. President to be impeached. Also in 2019 Trump's allies falsely accused Biden of getting the Ukrainian prosecutor, Viktor Shokin fired for many reasons but this was found out to be false. Throughout the primaries he didn't do good in early primaries until the South Carolina Primary, same thing with debates. After the dropout of Tulsi Gabbard in March it was down to Joe Biden and Bernie Sanders. Many expected Joe Biden to lose the nomination due to the popularity of Bernie Sanders but on April 8th, 2020 Bernie dropped out. Like 2016 many blamed the DNC for cheating to get Bernie out of the race but nothing took place against it. For the first time, Biden had gotten the nomination after 2 failed attempts. During the time Biden got the nomination a major virus called COVID-19 was rapidly spreading across the globe. After Biden clinched the nomination he was polling in double-digits against President Trump and many Republicans were turning on Trump. A major one was a new project named "The Lincoln Project" which was a group of conservatives who were Anti-Trump and Pro-Biden which this attracted millions of views. Many more scandals around Trump were going around but Biden had said another controversial statement in an interview with him saying: "You Ain't Black" which was referring to the African-American voters who were voting for Trump. In May a huge news story broke out about another innocent African-American who had been killed by police who's name was George Floyd. After this huge protests and riots broke out about past and present killed African-Americans who died from cops. This also hurt Trump a lot and at this point Trump had such a low approval rating and Joe Biden was surging in polls. For a long time Biden would be very high in polling and Trump would start plateauing at a low level. Biden at the National Democratic Convention picked California Senator, Kamala Harris as Joe Biden's running mate. She was a controversial pick among Moderates but was still approved of.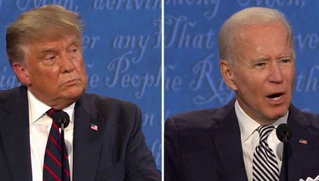 Joe Biden Presidency