Line 77:
Line 77:
 
 
 

'''Russia:''' We send an alliance request to Germany. We start mobilizing troops in the Caucases and on the Kazakhstan border. Troops also begin mobilizing on the Ukrainian, Belorussian, Latvian, and Estonian borders. Troops are also sent to the Kaliningrad Oblast, and mobilize on the Polish and Lithuanian borders. The Navy also begins mobilizing in the Baltic and the Black Seas. We request an alliance with the BRICS nations.

 

'''Russia:''' We send an alliance request to Germany. We start mobilizing troops in the Caucases and on the Kazakhstan border. Troops also begin mobilizing on the Ukrainian, Belorussian, Latvian, and Estonian borders. Troops are also sent to the Kaliningrad Oblast, and mobilize on the Polish and Lithuanian borders. The Navy also begins mobilizing in the Baltic and the Black Seas. We request an alliance with the BRICS nations.

 
+
 
+

'''Italy:''' With the current government launching economical and social reforms, we hope in a gradual exit from the crisis. We also begin to invest in green energy, in order to decrease the CO2 emissions.

 

[[Category:Map Games]]

 

[[Category:Map Games]]

 

[[Category:Future Map Game Revised]]

 

[[Category:Future Map Game Revised]]
---
Revision as of 16:35, 29 March 2014
A Map Game is a page where a user directs a country, faction, or species.
During the game, a regular map is posted to show the size of everyone's country. Each user ca n expand, declare war, ally themselves with others, and explore! Now as you can see there were several "issues" with the previous Future Map Game so I had to revise this one.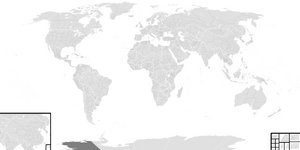 Rules
For those new to this kind of game, I'll post some rules.
Please please please be plausible! This is a must if you want to play this game! If you do not post plausibly, your implausible edit will be deleted.
Both parties must agree to an alliance/treaty/barter
Every turn is one year until 2200 where it becomes ten years then in 2300 it turns to 20 years
One day is a turn.
Editing previous turns is cheating.
I will make an Earth map each turn (if you want to, feel free!). However, I can make a map of the Moon, Mars,
Mods are able to create random events and will represent a npc nation (i.e. Mongolia isn't going to sign its land over to Pakistan or something stupid like that), Mods
also help to make that implausible stuff doesn't happen.
After you do 3 implausibilities you are banned from the game.
Every 25 years are to be archived to limit the amount scrolling that needs to be done to get to the latest year. Be sure to check back once in a while to ensure proper continuity!
Have Fun!
Nations
Put your signature by a country you want to control! Feel free to add an existing nation!
Also don't forget that when you destroy another country to cross out its name and say what happened to it (i.e.Mexico Unified with Canada and the USA into the United States of North America)
Germany: Local Mafia Boss (Talk) (Blog)
Sweden: DaneOfTheNorth (talk)
China: TankOfMidgets (talk) 02:52, March 16, 2014 (UTC) (Given permission to take China by BattleStriker 99. If this is in error, please let me know and I'll change.)
United Kingdom: (Northern Ireland, Scotland, Wales, and England):
France: Cookiedamage (talk)
Australia: Eastest566 (talk) 23:27, February 23, 2014 (UTC)
South Korea: Chris Lowles 12:16, March 21, 2014 (UTC)
Bulgaria: Holomanga (talk) 22:39, February 25, 2014 (UTC) [please leave a message on my talk page when the game begins]
Japan: RevenantAscension (talk) 23:54, February 25, 2014 (UTC)
India:What is this????Is this a signature??? (talk) 03:11, February 28, 2014 (UTC)
Indonesia: BattleStriker99 (talk) 15:33, March 15, 2014 (UTC)
Canada: Reserved for Willster22
Taiwan -Kogasa
Romania:The Royal Tank (talk) 23:57, March 15, 2014 (UTC)
Venezuela: Loconator3000, March 21, 2014
Mods
If bolded and has a asterisk after it you are accepted.
Unlawful self addition is against the rules. Doing so again will result in a Block.
Archives
The Game
2014
The Crimean Crisis continues with both the US and Russia now trying to find a diplomatic solution to the current crisis.
The search for Flight 370 continues as the search area is extended.
CO2 emissions continue to rise.
Hurricane Thomas hits the Southeastern US as a category 4 hurricane similar to Katrina. In Asia Cyclone Maria hits the Southeast Asian coast as a category 5 hurricane.
Sweden: In the light of what has happened in Ukraine, Sweden joins the NATO and begins a military buildup. Jet fighters are sent to the Baltic States and Poland to defend them from Russian aggression.
Indonesia: We begin to build up our army and expand our economy. We send aid to the nations and provinces affected by Cyclone Maria and ask for trade agreements with any nation with a Pacific coast hoping to form the Pan-Pacific Trade Agreement. We also begin to call for a summit in Jakarta to discuss recent events regarding climate change and begin to invest in clean energy to reduce CO2 emissions.
Germany: We change our constitution to allow us to send military forces into other countries. We begin to increase our industry, and diplomats are sent to Austria, requesting a merger.
Austrian Diplomacy: (RNG: 9) Yes.
United States: We continue to look for a solution to the Crimean issue, preferably one that won't end up in the Russianization of eastern Europe and the Baltic states. We send diplomats to Germany/Austria and ask for a mutual assistance agreement in the case of Russian agression.
Russia: We send an alliance request to Germany. We start mobilizing troops in the Caucases and on the Kazakhstan border. Troops also begin mobilizing on the Ukrainian, Belorussian, Latvian, and Estonian borders. Troops are also sent to the Kaliningrad Oblast, and mobilize on the Polish and Lithuanian borders. The Navy also begins mobilizing in the Baltic and the Black Seas. We request an alliance with the BRICS nations.
Italy: With the current government launching economical and social reforms, we hope in a gradual exit from the crisis. We also begin to invest in green energy, in order to decrease the CO2 emissions.
Community content is available under
CC-BY-SA
unless otherwise noted.