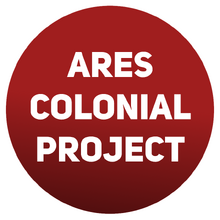 The Ares Colonial Project was a public American organization, formed between a contract from the National Aeronautics and Space Administration (NASA) and Galactic Aerospace (formerly Virgin Galactic). It was based in New York, New York.
The project's main goal was to establish a permanent human presence on Mars by 2040. In 2028, the organization developed and published the Menard Doctrine, a detailed plan on Martian colonization.
The first Americans on Mars would land at Protonilus Mensae thanks to the ACP, and would establish Glennan Base. The first permanent ACP base would be Crater Outpost in Gale Crater. The ACP also assisted in creating the Communication Relay and Broadcasting Network (CRBN) on Mars, creating a network of satellites for communication across the Red Planet.
The Mars Habitation Act of 2046 would prohibit private companies from creating permanent civilian outposts on Mars without government command, would transfer authority of the CRBN to NASA, and would force NASA to acquire Galactic Aerospace's remaining 40% stake in the ACP, transforming the ACP into a governmental entity. The ACP would be dissolved by 2056.